A hybrid school approach blends the best of traditional public/private school with homeschooling. Homeschooling allows parents to control and be accountable for their child's education. Parents have freedom and flexibility to choose what and how their children learn. It allows for more family time and conversations about faith and ethics, while also guarding against those same conversations with peers and educators that don't share the same values. For many families, homeschooling can seem too daunting of a task. Some parents may not feel confident in their ability to teach their children; they may feel overwhelmed by the amount of time that would be required. Others may not want to give up the socialization that a classroom provides. A hybrid approach makes the wonderful possibilities of homeschooling more attainable by providing support for challenges and offering positive classroom interactions.
How does the hybrid school approach work at FBC's & 123's?
A student attending FBC's & 123's Hybrid Classes would be considered a homeschool student by the State of Missouri. The student attends school for part of their academic instruction, while the remainder is completed at home. The hybrid schedule at FBC's & 123's, is Monday through Thursday, 8AM to 12PM in the classroom. The time spent at home is determined by parents, but lesson ideas and support are provided by the FBC's & 123's teacher. Parents are also guided through the process of state notification and record keeping for state homeschool requirements.
FBC's & 123's hybrid classrooms are multi-aged, where students progress as they reach competency in each skill and as they are developmentally ready. Progression through the curriculum is not based on age, but rather competency. Skills are established and defined by the curriculum. Our Christian homeschool curriculum, is used to develop lessons for the classroom so that there is a seamless transition between classroom and home.
How many students will be in each class?
Our target class size is 6 to 8 children.
Advantages of a small class size:
Research shows that there is higher student achievement with lower teacher student ratios.

Time spent in school is more focused and concentrated

Teachers are able to get to know their students better and can build stronger relationships

More individualized instruction focusing on student strengths and weaknesses

More cohesive group of students who support and learn from one another

More in depth study and ability to expand on themes based on student interest
At FBC's & 123's, staff and children strive to "grow in the grace and knowledge of our Lord and Savior, Jesus Christ" (2 Peter 3:18). This is accomplished by integrating God's Word into all areas of learning. With a Christian education, children learn that God is constantly at work in the world, not just on Sunday, but in their daily lives. Students are encouraged to ask the questions that will help them understand what it means to be a Christian. Our goal is to grow a desire in students to know God and to become followers of Christ.
We understand that choosing a school for your child is a big decision and pray that God guides you to the best choice for your family. If you have any additional questions or concerns, please contact us at preschool@fbclamar.org or First Baptist Church of Lamar at 417-682-3538.

ENROLLMENT FORMS & PROCEDURE
Enrollment is open now! Click on the Enrollment button below to fill out the digital enrollment form. Then mail the $60 enrollment fee to:
First Baptist Church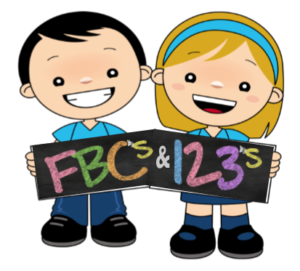 Lamar, MO 64759